Richard Fordyce
Director of Agriculture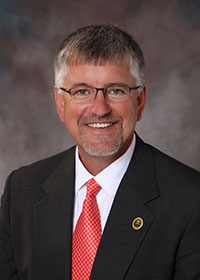 Richard Fordyce, a fourth-generation Missouri farmer from Bethany was named Director of the Missouri Department of Agriculture in December 2013 by Governor Jay Nixon. Fordyce has held leadership roles in agriculture on the local, state and national levels for more than 20 years. Since 2008, he has served as chairman of the Missouri State Soil & Water Districts Commission.
Fordyce received the 2012 Soil Conservationist of the Year award from the Conservation Federation of Missouri. He has held leadership positions with the Harrison County Farm Bureau, including serving as its president from 1993 to 2010, and has been involved on various boards and committees of the Missouri Farm Bureau and the American Farm Bureau Federation.
Other organizations that Fordyce has held leadership positions in include the National Biodiesel Board, the Missouri Soybean Merchandising Council, Agricultural Leaders of Tomorrow, University of Missouri Extension and the Northwest Missouri State Fair. He is also one of only three directors from Missouri on the United Soybean Board.
He has served his community as a member of the South Harrison R-II School Board, on the Green Hills Regional Planning Commission, on the Sherman Township board of trustees, and on the Community Foundation of Northwest Missouri. Fordyce also has served on advisory groups to Cong. Sam Graves and former U.S. Senators Kit Bond and Jim Talent.
Fordyce and his wife, Renee, grow soybeans and corn as well as raise beef cattle on the family farm in Harrison County.