International Trade
Upcoming Buyers' Missions
Missouri's Global Marketplace
Exports are a profit center for Missouri's farms, food processors, agricultural businesses and forestry product companies. The following document from the U.S. Department of Commerce's International Trade Administration shows how Missouri is expanding exports and supporting jobs.
Missouri Agribusiness Export Successes:
The Missouri Department of Agriculture's International Marketing Program provides a variety of export services and has successfully linked Missouri's producers of processed foods, including meat and poultry, food ingredients, feed ingredients, identity preserved grains, forestry products, and purebred livestock to international buyers; and these introductions have resulted in millions of dollars in export sales.


The Online Services section in the sidebar provides information and links about Missouri's global marketplace and the agriculture export market.
Missouri's Trade Partners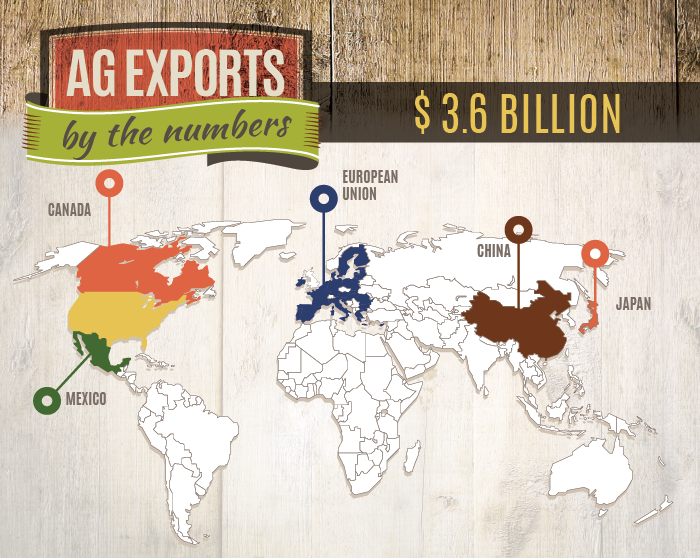 Missouri's Top Exports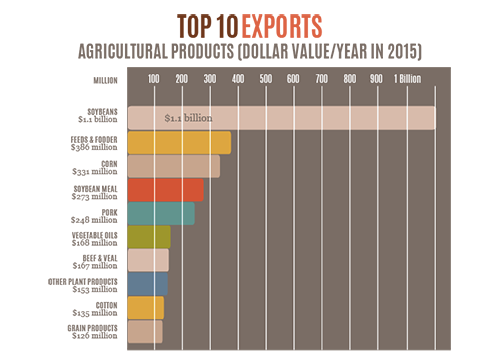 Missouri's agricultural exports are as diverse as its producers and processors. Agriculture products from the Show-Me State are exported throughout the world. Last year, Missouri's food product exports reached $1.56 billion and agriculture products reached $376 million.
Below is just a sampling of the High Quality Missouri Products available for importers:
Processed Foods: Beef, pork, poultry, beverages, snack food, dairy products, sauces, cereals, mixes, frozen meals, and much more.
Forestry: Hardwood flooring, hardwood lumber (including Black Walnut, White Oak, and Red Oak), and cooperage.
Livestock: Purebred livestock, semen, and embryos.
Specialty Grains: Popcorn, white hilum soybeans, organic corn, organic soybeans, and white corn.
Pet Foods: All types of pet foods and ingredients.
Food Ingredients: Complete food and food ingredients.
Animal Feeds: Complete animal feed and feed ingredients.
Grains: Corn, soybeans, wheat, grain sorghum, and rice.
Top Commodities