2018 Feed Program Review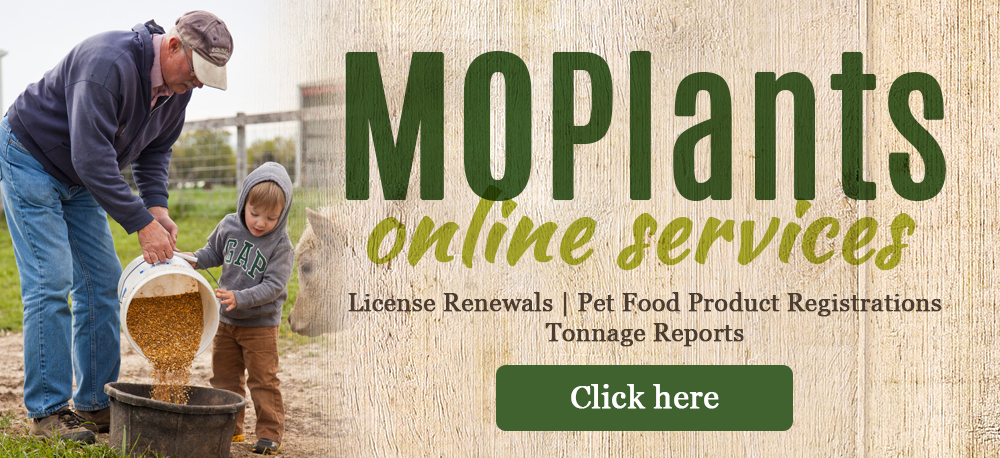 The Missouri Department of Agriculture (MDA) Plant Industries Division, Bureau of Feed and Seed assists the state's feed industry and consumers through inspecting and testing product and providing information to consumers to assist in making buying decisions. The Summary Report of 2018 Commercial Feed Inspections includes data from over 1,400 inspections and over 38,000 laboratory tests. This report is provided as an annual review of the bureau's responsibilities and accomplishments and as reference material.
Recognition that livestock feed is a key component in food safety is expanding; therefore, the focus on feed safety continued in 2018. The Missouri Department of Agriculture's Bureau of Feed and Seed, in cooperation with FDA, plays an important role in food safety by providing inspection and surveillance for Bovine Spongiform Encephalopathy (BSE) prevention and Good Manufacturing Practices (GMP) inspections. Bureau inspectors are trained extensively and hold FDA credentials to carry out surveillance inspections. These inspections ensure animal feed is safe which in turn helps protect the safety of the food supply for human consumption.
In 2018, the bureau performed 30 BSE inspections. Staff inspected Missouri feed facilities to review the practices of manufacturers and/or distributors of feed products containing prohibited mammalian protein in compliance with Federal Rule 21 CFR Part 589. These inspections are designed to make sure no prohibited protein is fed to ruminant animals.
Twelve GMP inspections of federally licensed medicated feed manufacturing establishments were performed by MDA staff in 2018. An additional 53 inspections were conducted at medicated feed production plants not licensed by FDA. Those inspections are a vital part of the food safety initiative for all animal feed. The program is intended to ensure legally approved levels and combinations of drugs and antibiotics are used in feed products and that each facility's housekeeping, records, labeling, cleanliness and other practices are in compliance with 21 CFR Part 225. In 2018 MDA staff performed 22 GMP inspections under new rules (21 CFR Part 507) as part of the phased implementation of the Food Safety Modernization Act.
Food safety is also addressed in the bureau's annual survey of corn produced in the state. In addition to providing test information to manufacturers for crude protein levels, the bureau tests for aflatoxin, fumonisin, vomitoxin and zearalenone. If corn is found containing toxin levels exceeding FDA guidelines for safe use for livestock, notifications are sent immediately to the facility at which the corn was sampled.
The Bureau of Feed and Seed inspectors responded swiftly to nine complaints in 2018 about the quality or safety of feed or feed ingredients. When problems required testing beyond the scope of the feed program or the capabilities of the Missouri Feed Control Laboratory, other agencies were utilized or samples were sent to other laboratories for testing.
The Bureau of Feed and Seed cooperated with the Plant Pest Program and the USDA to obtain samples from Missouri's 2018 wheat production. All samples collected tested negative for karnal bunt wheat disease. The assurance provided by this testing allows Missouri wheat to be exported to many countries that require the testing.
The Bureau of Feed and Seed took regulatory action against unlicensed companies or those who failed to file tonnage reports. Those actions are reported in "Violations Other Than Failure to Meet Label Claims."
In 2018, inspectors collected 4,584 samples of finished feeds and feed ingredients. The collected samples were tested for adherence to label guarantees, resulting in 33,444 individual assays in 2018. If testing revealed a deficiency or excess from the guaranteed analysis or something of a detrimental nature, a Withdrawal from Distribution Order was issued immediately. There were 501 withdrawals issued in 2018, for a statewide compliance rate of 88.15%. A total of 333 service and complaint samples were analyzed in 2018.
The Missouri Feed Control Laboratory analyzed 10 customer-formula samples in 2018. Customer-formula feeds are those for which the customer has designed his own ration and asks for specific ingredients in specific quantities to be blended by the manufacturer. Each customer requesting the feed, as well as the manufacturer of the feed, received an analytical report showing nutrient levels found in the sample. In addition, customers received a questionnaire to confirm they received the quality of feed requested.
The Excellence in Compliance Award Program recognizes feed companies who have achieved at least 90% adherence to label guarantees on five or more samples. The companies must also be up-to-date with all fees and reporting. One hundred companies qualified for that award in 2018. Sixty-eight of those are located in Missouri.
In 2013, the Animal Feed Regulatory Program Standards (AFRPS) were established by the Food and Drug Administration (FDA) in cooperation with the Association of American Feed Control Officials (AAFCO) to provide a framework that every state can use to determine the strengths and needs of its program. Implementation of these standards will build uniformity and consistency among state feed regulatory programs and further efforts to develop an integrated food safety system.
In August 2014, Missouri Department of Agriculture became 1 of 12 states to enroll in the AFRPS, and in September 2015, the department was the recipient of a grant that has assisted the Bureau's Feed Inspection Program in implementing the 11 standards. This year, an audit performed by FDA revealed that the Missouri Feed Program has successfully implemented 8 of the 11 standards. In conjunction with the same FDA grant, the Missouri Feed Control Laboratory has put plans in place to become ISO/IEC 17025 certified and will expand its testing capability to test for microbiological pathogens and toxic agents that pose threats to the animal and human food supply. These improvements will increase inspectional and laboratory capability, resulting in improved safety of the food supply in Missouri and will contribute significantly to an integrated food safety system.
In 2018, the Missouri Feed Regulatory Program and Feed Control Laboratory made significant progress toward its goals of full implementation of the AFRPS and attaining ISO 17025 Accreditation. By implementing AFRPS, the Missouri Department of Agriculture works to achieve its mission: "To serve, promote, and protect our agricultural producers, processors and consumers of Missouri's food, fuel and fiber products".
2018 Summary Report:
View the Missouri Feed Law (266.220 RSMo).
View the Missouri Feed Rules (2CSR 70-30.010-30.115).
View the Missouri Pet Food Regulations (2CSR 70-31.010-70-31.90).
Association of American Feed Control Officials (AAFCO) - The Business of Pet Food provides information on pet food and pet treat labeling and state regulatory requirements.
Guide to Making and Selling Pet Treats in Missouri
For further information concerning feed regulation in Missouri contact the Bureau of Feed and Seed.
You can now apply for or renew your feed license, register pet food products and file current tonnage reports online at https://apps.mda.mo.gov/moplants/SecurityLogin.aspx or if you prefer to submit a check, you can use these forms:
Commercial Feed License Application
Product Listing of Pet Foods and Specialty Pet Foods
Missouri Feed Tonnage Report
Missouri Deferment List
Application for Deferment List
For questions on tonnage or inspection fees:
E-Mail: FSTT@mda.mo.gov
For questions on nutrient labeling and company compliance records:
Stan Cook, Program Manager
E-Mail: FSTT@mda.mo.gov
For a release of a "Withdrawal of Distribution":
E-Mail: FSTT@mda.mo.gov