Missouri Agriculture Awards Program
Honoring Missouri's Greatest Agriculturalists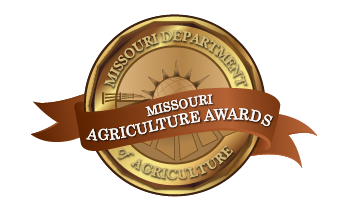 For centuries, Missouri farmers have been providing our nation with food, fuel and fiber and have assumed the responsibility of investing their lives to provide for others while also giving back to this state's economy. Many have gone to great lengths to advance agriculture.
The Missouri Department of Agriculture would like to commend each and every farmer for their hard work and dedication to the industry. Through the Missouri Agriculture Awards, we would like to recognize those that stand out for their commitment to innovation, giving back to their communities, committing to good land stewardship and being a great example for future generations.
Award winners are selected annually by a committee of representatives. For guidance, the judges consider innovative farming techniques, examples of commitment to land stewardship, community engagement and leadership.
Nominations can be submitted by any organization, group or individual on behalf of a Missouri farmer.
2016 Award Winners
The Missouri Agriculture Awards were presented at the 47th Missouri Governor's Conference on Agriculture awards banquet on Friday, Dec. 16, 2016 at Tan-Tar-A Resort. Photos from the awards banquet are available on the Missouri Department of Agriculture's Flickr page.