Missouri State Fair, Aug. 10-20, 2023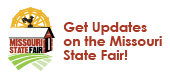 Join us at the Missouri State Fair Aug. 10-20, 2023, in Sedalia, in celebration of our great state's 121st annual agricultural showcase! The 400-acre fairgrounds will present premier livestock shows, competitive exhibits and first-class professional entertainment. Mark your calendar, grab your family and friends, and come home to the fair!
Missouri Department of Agriculture at the Missouri State Fair
Established in 1899, the Missouri State Fair is one of the oldest in the nation. The fairgrounds, which cover 396 acres in Sedalia (Pettis County), are open year-round, providing facilities for horse and livestock shows, art and craft festivals, camping, rallies and other events. During the annual fair held in August, visitors enjoy educational and recreational activities, a carnival midway and musical entertainment.
The Missouri State Fair continues to be the state's largest agricultural and tourism event, with exhibits showcasing livestock, row crops, horticulture and floriculture. The State Fair plays an important role in shaping Missouri agriculture, contributing to the state's economy and educating the public about the importance and necessity of agriculture. It features agribusiness exhibits and displays of Missouri-produced commodities.
The State Fair Commission, whose members are appointed by the governor, oversees the fair's operations.
Director of Agriculture Chris Chinn, and many Missouri Department of Agriculture employees, work day-in and day-out, to make sure the Missouri State Fair brings the best that our state has to offer!