Missouri State Fair, Aug. 8-18, 2019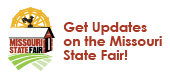 Join us at the Missouri State Fair Aug. 8-18, 2019, in Sedalia, in celebration of our great state's 117th annual agricultural showcase! The 400-acre fairgrounds will present premier livestock shows, competitive exhibits and first-class professional entertainment. Mark your calendar, grab your family and friends, and come home to the fair!
Missouri Department of Agriculture at the Missouri State Fair
Established in 1899, the Missouri State Fair is one of the oldest in the nation. The fairgrounds, which cover 396 acres in Sedalia (Pettis County), are open year-round, providing facilities for horse and livestock shows, art and craft festivals, camping, rallies and other events. During the annual fair held in August, visitors enjoy educational and recreational activities, a carnival midway and musical entertainment.
The Missouri State Fair continues to be the state's largest agricultural and tourism event, with exhibits showcasing livestock, row crops, horticulture and floriculture. The State Fair plays an important role in shaping Missouri agriculture, contributing to the state's economy and educating the public about the importance and necessity of agriculture. It features agribusiness exhibits and displays of Missouri-produced commodities.
The State Fair Commission, whose members are appointed by the governor, oversees the fair's operations.
Director of Agriculture Chris Chinn, and many Missouri Department of Agriculture employees, work day-in and day-out, to make sure the Missouri State Fair brings the best that our state has to offer! Here's some of the excitement planned for the 2019 Missouri State Fair:
August 11, 2019, 2 p.m.
Military Appreciation Day
Military Appreciation Day at the Missouri State Fair provides an opportunity for the Missouri Department of Agriculture to join with military leaders from across the state to pay special tribute to the men and women of our armed services. The official ceremony will be held in the air-conditioned Mathewson Exhibition Center and will include recognition of and remarks from Missouri veterans and current military leaders. This event is free and open to the public. See more...
August 15, 2019, 8 a.m.
Governor's Ham Breakfast
This high-profile event brings together thousands of leaders in government, politics and agriculture to benefit Missouri's Youth in Agriculture, celebrate agriculture's past and look forward to its future. The Missouri State Fair Foundation hosts guests at the Director's Tent on the second Thursday of each fair, highlighting many Missouri Grown products for breakfast. See more...
August 8-18, 2018, 9 a.m. to 8 p.m.
Agriculture Building
The Agriculture Building is a full-out showcase of the agriculture industry in the Show Me State. With a layout that welcomes audiences to come in and explore, fairgoers will have an opportunity to meet, interact and learn about the industry which drives our state's economy. Farmers, ranchers and commodity group representatives will be on site throughout much of the Fair. Don't miss it! See more...
August 8-18, 2019, 9 a.m. to 2 p.m.
Missouri Grown Bistro & Market
Treat your taste buds with a meal or a snack at the Missouri Grown Bistro and Market. A full service farm to table restaurant and market on the fairgrounds in the Taylor Woods Youth Building, the Bistro serves breakfast and lunch with ingredients grown and made right here in Missouri. Dine in or get it to go, this grill-based menu will provide fresh, local meals all day long. While the bistro menu will provide plenty of options to keep you coming back, daily specials will vary to feature different prime cuts every day.