Thousand Cankers Disease of Black Walnut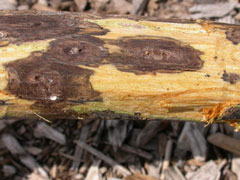 The Missouri Department of Agriculture has enacted a state exterior quarantine to protect Missouri's black walnut resource from Thousand Cankers Disease (TCD). The quarantine prohibits wood products, including walnut bark and all firewood, from infected areas from coming into Missouri. States affected by Missouri's quarantine include Arizona, California, Colorado, Idaho, Indiana, Maryland, Nevada, New Mexico, North Carolina, Ohio, Oregon, Pennsylvania, Tennessee, Utah, Virgina and Washington. Several other states have enacted similar quarantines, including Iowa, Kansas, Michigan, Nebraska, Oklahoma, Minnesota, Wisconsin, Arkansas, Illinois and West Virginia. The known infested states of North Carolina, Ohio, Pennsylvania, Tennessee, Virginia and also have state quarantines. More information about the Missouri quarantine is available below.
Thousand Cankers Disease (TCD) is a pest complex that has caused mortality in walnut in many western states. It is now present in the eastern native range of black walnut, but has not been detected in Missouri. TCD is caused by the walnut twig beetle (Pityophthorus juglandis) and an associated fungus (Geosmithia morbida) and black walnut (Juglans nigra) is highly susceptible to this disease.
If you suspect you have seen TCD in Missouri, please contact the Missouri Department of Agriculture, Office of the State Entomologist at (573) 751-5505. For those outside of Missouri, the contact information for your state plant regulatory official can be found at the National Plant Board website at www.nationalplantboard.org under "membership".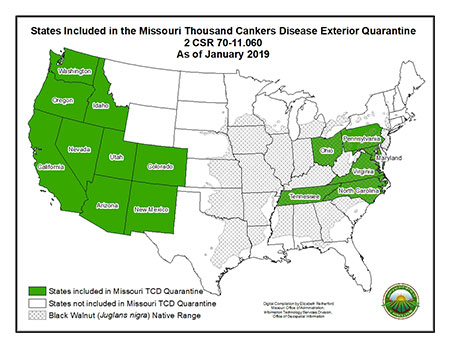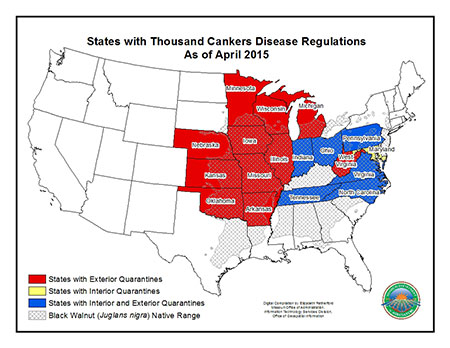 Links of Interest
Other TCD-Related Documents