Nursery & Greenhouse Management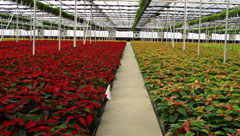 Download the application for Nursery Grower's Registration.
Download the application for Nursery Dealer's License.
A searchable database of certified Missouri nursery growers and dealers is available on the "Missouri Plants" web site. When searching this database you may refer to the stock code abbreviation directory.
Nurseries listed in this directory have been duly inspected and properly certified to sell nursery stock in the state of Missouri. This certification is based on an annual inspection and periodic re-inspections by area horticultural inspectors and apparent freedom from especially harmful plant pests.
Greenhouses listed in this directory have received semiannual inspections and are properly certified to do business in Missouri for the specified time period, December 1 to November 30.
For further information concerning Nurseries or Greenhouses in Missouri, see the Missouri Plant Law Sec. 263.010-263.180, RSMo 1986 or contact the Plant Pest Control Program.
The Missouri Plant Law states that it shall be illegal to sell, give away, or transport nursery stock in the state of Missouri unless said nursery stock has been properly inspected and is accompanied by a valid inspection certificate.
Any person, company or corporation other than a Missouri nurseryman selling or offering for sale, or giving away nursery stock as a premium or for advertisement purposes in the state of Missouri, must first obtain a nursery dealer's registration inspection certificate.
Any interested party may apply for an inspection or certificate at the Plant Industries Division, Missouri Department of Agriculture, P.O. Box 630, Jefferson City, MO 65102; telephone 573-751-5505.
Important Information Regarding Nursery Certification in Missouri
States Requiring Individual Certification
Some states require that a certificate of inspection be provided before doing business in those states. This directory is designed, in part, to satisfy that requirement in lieu of providing a separate certificate from each Missouri nursery.
Nursery inspection tags must accompany all shipments of nursery stock, within Missouri and to other states as well. Instructions for printing these tags were sent with the certificate of inspection.
Greenhouse inspection tags are not required for shipment within Missouri; however, they should accompany all out-of-state shipments. The requirements for printing of greenhouse tags are the same as the ones for nursery tags.
Wyoming and Idaho charge a license fee to all out-of-state nurseries and plant dealers. Prior to doing business in these states, apply for an out-of-state nursery license.
Colorado requires out-of-state nurseries to designate a resident agent within that state prior to doing business. Contact Colorado for specific information.
Requirements for other states and their contact information may be found at www.nationalplantboard.org.
Japanese Beetle Certification
According to the U.S. Domestic Japanese Beetle Harmonization Plan, Missouri is a category 3 state in regards to its level of Japanese beetle infestation. Missouri nurseries shipping out of state to category 1 or 2 states must comply with specifications in the Harmonization Plan. Furthermore, states such as Colorado and New Mexico have additional state quarantine restrictions. Please contact the Office of the State Entomologist for specific requirements at (573) 751-5505.
Missouri Certified Nurseries
Sod is considered nursery stock in Missouri and requirements are the same as above. Bulbs, brambles, and strawberry plants are also defined as nursery stock and they receive dual inspections each year.
Missouri Certified Greenhouses
The inspection/certification of greenhouses is not compulsory under the Missouri Plant Law and is performed only upon request. A grower of greenhouse plants who needs a certificate of greenhouse inspection, may obtain a semiannual inspection of their greenhouse premises and plants by making application to the state entomologist. Vegetable transplant inspections are conducted upon the request of the owner and are based upon the requirements of the destination state.
Missouri Certified Nursery Dealers
The Missouri Plant Law requires that each nursery dealer, before selling, offering for sale, or otherwise distributing nursery stock within this state, must obtain a Nursery Dealer's Registration-Inspection Certificate annually for each individual location from which the said dealer sells or offers for sale nursery stock. Each nursery dealer shall make application on forms to be provided by the state entomologist for each individual location. A nursery dealer shall obtain and distribute only inspected and certified nursery stock. The state entomologist may inspect, or cause to be inspected, the premises including any sales yard, packing shed, nursery stock on hand or equipment for the presence of dangerous and destructive insect pests and plant diseases which may be disseminated on nursery stock.